Capt. Marc Wilkerson
USCG Licensed Freeport, Texas
Call Now 979-236-8368

Welcome to Blue Streak Fishing Charters LLC, aboard the E-Sea Rider with Capt. Marc Wilkerson. Capt. Marc has been fishing the Texas Gulf Coast waters for more than 30 years and has the knowledge to ensure the success of your next Texas offshore or bay fishing adventure!
Some of the Texas Gulf Coast's finest fishing is to be found in the waters out of Freeport, Texas. Captain Marc Wilkerson is U.S.C.G. licensed and is dedicated to providing you with an angling experience of a lifetime. He looks forward to you joining him for a fishing trip that will be the highlight of your vacation, corporate event, family reunion, or friendly get-together.
If you are looking for a good time and want to catch some fish too, then you have found the right place! Give Capt. Marc Wilkerson a call and Let's Go Fishing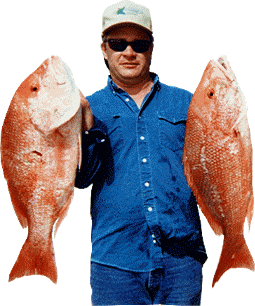 Freeport Offshore and Near Shore Fishing Charters
Fishing & Fun – Our Specialty
Capt. Marc specializes in family fishing. One of the best ways to spend time with the family and have lots of fun is to go fishing. Novice to Experienced angler, Children to Adults, we provide all types of instruction for any angler's skill level. Regardless of the level of an angler's skill or experience, any day on the water fishing with Capt. Marc Wilkerson will be a day long remembered.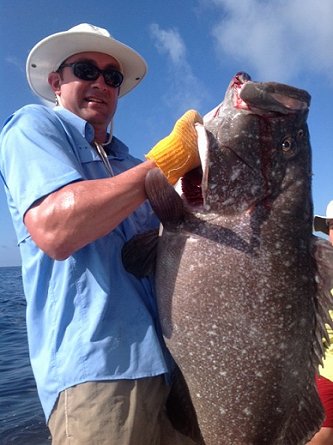 Cancellation Policy:
The Captain is solely responsible for the decision to sail. In the event you decide to cancel your trip, every effort will be made to re-book your date. If the date cannot be re-booked, deposit is subject to forfeit.
We fish for the following species: Red Snapper, King Fish, Ling, Dorado, Wahoo Amberjack, Grouper, Red Fish, Shark , Black Fin Tuna.
All bait and tackle is provided. You may bring your favorite fishing rod and tackle if you desire.
Bring your own food and beverage. There is an ice chest on board for your food and drinks.
All containers should be cans or plastic. No glass, please.
No illegal substances of any kind will be tolerated.
Hats, sunglasses, sunscreen, rain gear and a camera to take photos on your trip are recommended.
All fish caught belong to you, the party. Insulated fish boxes and ice to keep fish during the trip are provided. We will clean the fish when we return to the dock
Check with the Captain the night before sailing to confirm your trip departure time.
Cancellations due to weather will be made at the discretion of the Captain.
The E-Sea Rider 28 Ft Glacier Bay
We provide all of your fishing tackle, bait, and ice. Parties of 1-6 anglers fish on a custom rigged, 28 Ft Glacier Bay. Enjoy a smooth, fast and comfortable ride to your fishing destination.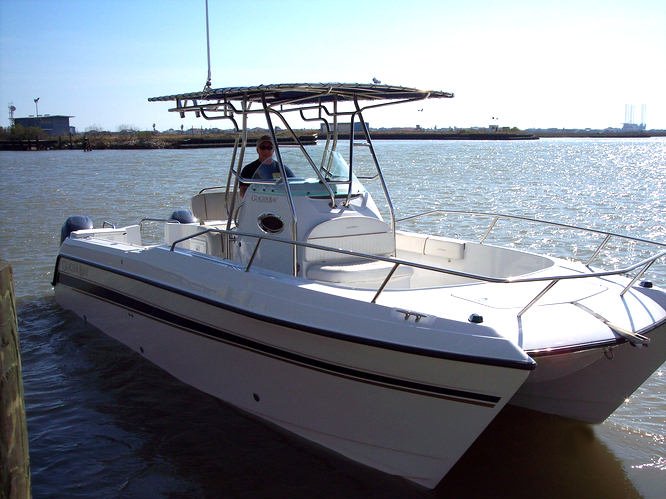 Near Shore Fishing Adventure
$550 for 1/2 day 4-hour
$750 for full day 6 hour 1-4 people 5th and 6th person $75 each.
Eight Hour Offshore Trip
$900 plus fuel up to 25 mile normally around 60 gallons of fuel.
Fishing for Red Snapper, King Fish , Cobia , Shark 5th and 6th person $75 each.
Mon-Wed, $850 plus fuel.
Offshore Adventure
$1050 plus fuel for 10 hour offshore trip, 40-50 miles. Normally around 100 gallons of fuel. Mon-Wed $950 plus fuel.
Fishing for Red Snapper , King Fish , Ling , Grouper , Dorado.
5th and 6th person $75 each.
Mon-Wed, $950 plus fuel
Blue Water Adventure
$1300 plus fuel for 12 hour 60-80 miles Normally around 130 gallons of fuel.
Fishing for Red Snapper , King Fish , Ling , Grouper , Dorado , Wahoo , Black Fin Tuna , Amber Jack.
5th and 6th person $75 each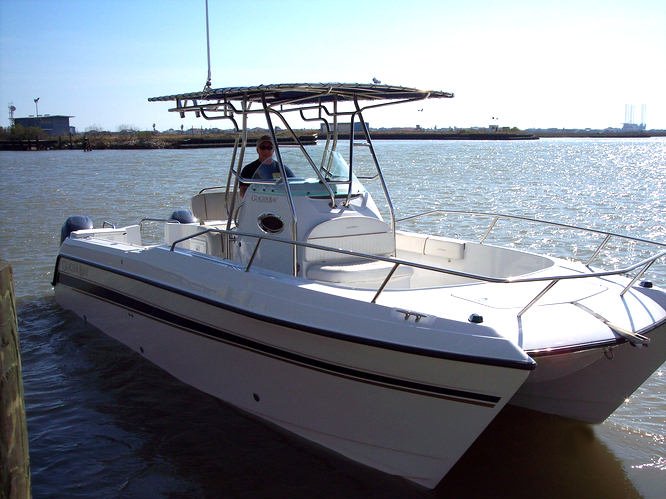 Whats INcluded?
>> All fishing trips includes, Bait, tackle, Ice, and fish cleaning.
** ALL PASSENGERS MUST SIGN A LIABILITY WAIVER PRIOR TO BOARDING THE VESSEL.
** Captain and deckhand work hard for you, tips are appreciated, 10% to 15% are customary. We will make sure you have a great time on your trip!
Trip Deposit:
All fishing trips require a $200.00 deposit remaining balance due before departure of dock.
Credit Cards accepted or mail to:
Captain Marc Wilkerson
Blue Streak Fishing Charters LLC
114 Fawn Trail
Lake Jackson, TX 77566
Call Now 979-236-8368 to book your next trip!
Exciting Near Shore and Offshore Fishing out of Freeport Texas
We run fast and fish hard
To Book Your Next Trip, Contact:
Capt. Marc Wilkerson
Blue Streak Fishing Charters LLC
114 Fawn Trail
Lake Jackson, TX 77566
Call 979-236-8368